Have you noticed anything new on my blog? Nope the colors didn't change. Nope I didn't change the layout. If you said "hey, there's a new pop-up" then you'd be right.
I found a fabulous new plug-in that I absolutely had to purchase and let me tell you why. Normally when I get emails about products like this I might check them out but 99% of the time I click away and definitely don't listen to their upsells or OTO. But this time was different.
Take a look down there in the lower right corner, that's where you'll see the new plugin. It is called Covert Messenger and you can check it out here without reading my review if you like. Covert Messenger Click Here
What makes it different –
Yes, it's an ad pop-up window and we've seen many of them but this is more like an instant messenger window which is one reason I like it. It can be used for whatever you like – entice people to check out your own product promotions, an affiliate product, or write a simple statement / request like I have.
The idea is to grab your reader's attention in a subtle, non-invasive manner that encourages click through. I feel it's much friendlier than those large in-your-face pop-up ads that interrupt your reading and force you to do something to make them go away.
How it works –
Covert Messenger has five template layouts so you can choose whichever looks best on your blog or website. Simply enter your "from" text, your "message", the URL address you want your reader to go to when they click, and where the messenger box will be located on your site.
You then decide if you want the ad to display everywhere or only on your front page and you set the display intervals to delay, stay open on the page, or to display – hide- and then reappear at preset intervals.
It is super easy and honestly takes a few short minutes to set-up. This is a screenshot of the dashboard –
What it costs –
Covert Messenger is incredibly affordable, only $17. Plus they have fabulous support. The plugin is created by the IM Wealth Builder team that designs many of the most popular IM products on the  market. I contacted support over a very simple problem and they responded in almost moments. Actually it wasn't a problem at all, simply operator error if you will and all was good even without their intervention.
They say the price will be going up to $67 but I have no idea when, if I were you I would not wait. Increase your conversions and get your reader to click on your ads. Take action today!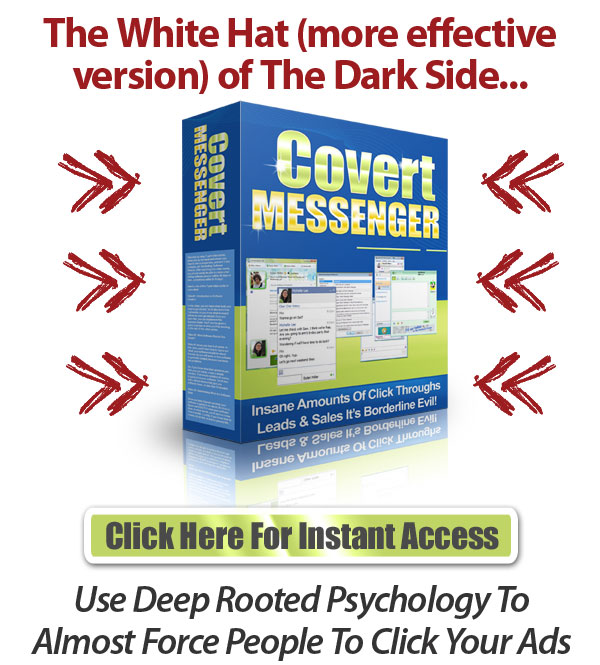 What do you think of Covert Messenger?
Kindly,
Marilyn T